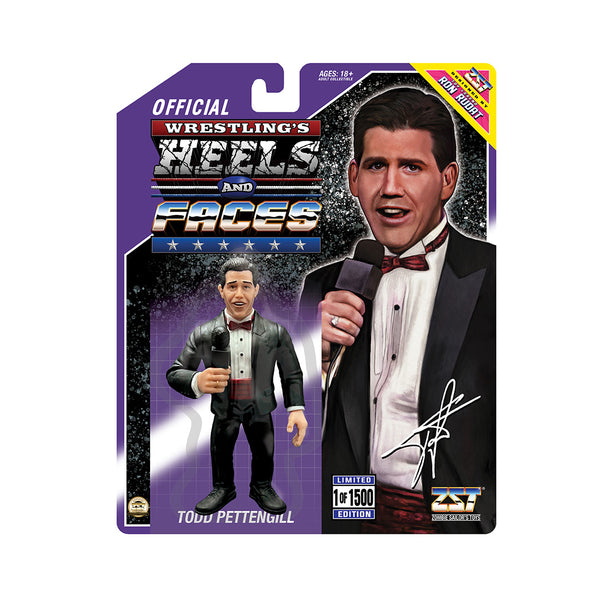 Todd Pettengill (1 of 1500 NYCC Exclusive) (PRE-ORDER ships January)
This product listing is for a pre-order item. All sales are final.

Estimated Ship Date: January 2024

Limit 2 per order.

After nearly 30 years, you can now bring Todd Pettengill in your house with his first-ever action figure! Conduct interviews with wrestling's most popular stars! Limited to 1500 worldwide and exclusively available during the week of New York Comic Con (NYCC) 2023!
Metallic gold hoop earring in left ear
Dapper tuxedo complete with bow tie and cummerbund

Microphone accessory with sculpted square microphone flag and windscreen

Metallic gold rings on each ring finger
Black dress shoes
8 points of articulation
Prototype image shown. Final product may vary.
Todd Pettengill directly receives a percentage of each and every sale.

Items are packaged and shipped with the utmost care.
All international customers are responsible for any duties, fees, and taxes applicable to their region.

Direction and Development: Zombie Sailor
Blueprint Design: Ron Rudat
Sculpt and Fabrication: Alex Heinke
Prototypes: True Cast Studios
Paint: Jennifer Johnson
Packaging: John Lucas Reyes
Portrait Illustration: Rich Davies