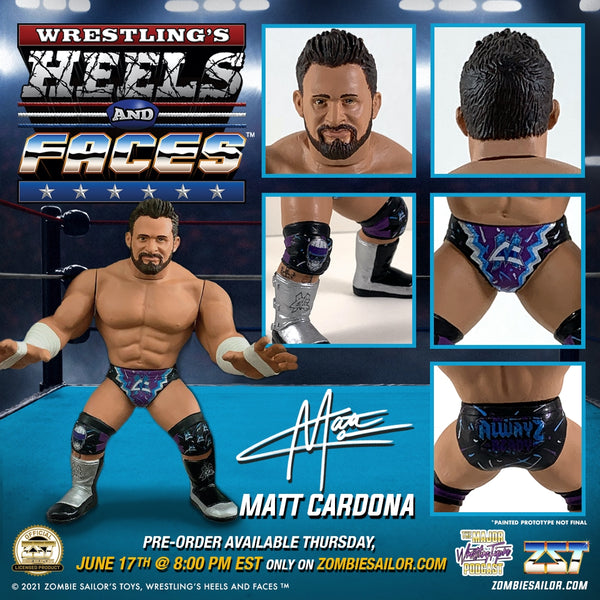 Matt Cardona (NON-MINT Packaging) IN STOCK!
Regular price
$32.99
Sale price
$40.00
PACKAGING HAS WEAR AND IS CONSIDERED NON MINT

"Alwayz Ready" Matt Cardona of The Major Wrestling Figure Podcast™ receives his most accurate action figure yet in 4.5-inch scale! Buy one to leave mint on card (MOC), and buy another to Let 'Em Breathe! A must-have collectible for Major Marks worldwide!
Signature scowl-expression portrait
Purple and black ring gear with metallic blue and silver accents
Tattoos across shin and calf of right leg
Positioned in "Overhead Body Slam" pose, as requested by Matt Cardona himself
4 points of articulation
Prototype images shown. Final product may vary.
Matt Cardona directly receives a percentage of each and every sale.

Items are packaged and shipped with the utmost care.
All international customers are responsible for any duties, fees, and taxes applicable to their region.

Direction and Development: Zombie Sailor
Blueprint Design: Ron Rudat
Sculpt and Fabrication: Alex Heinke
Prototypes: Jeremy Monz
Paint and Photography: Jennifer Johnson
Graphic/Package Design: John Lucas Reyes
Portrait Illustration: Rich Davies
SKU#: 41598