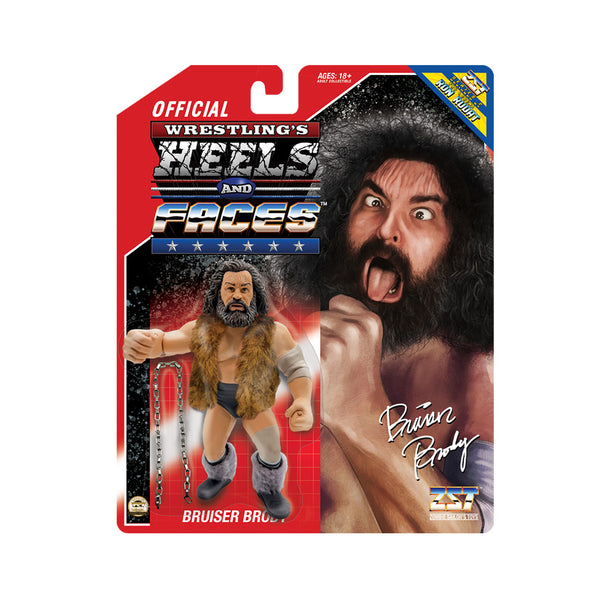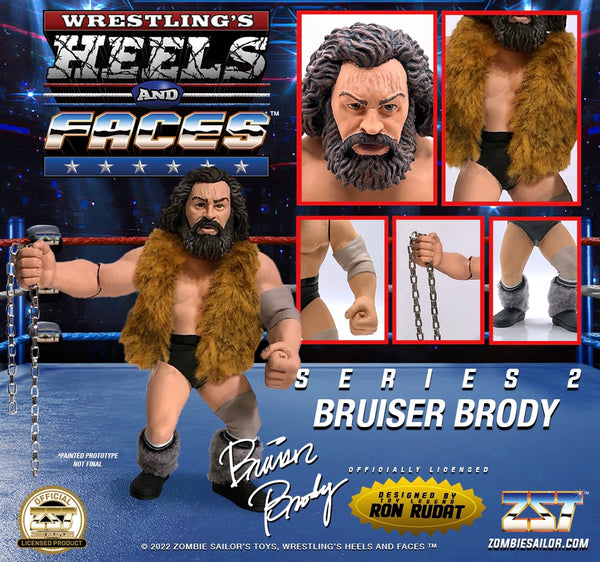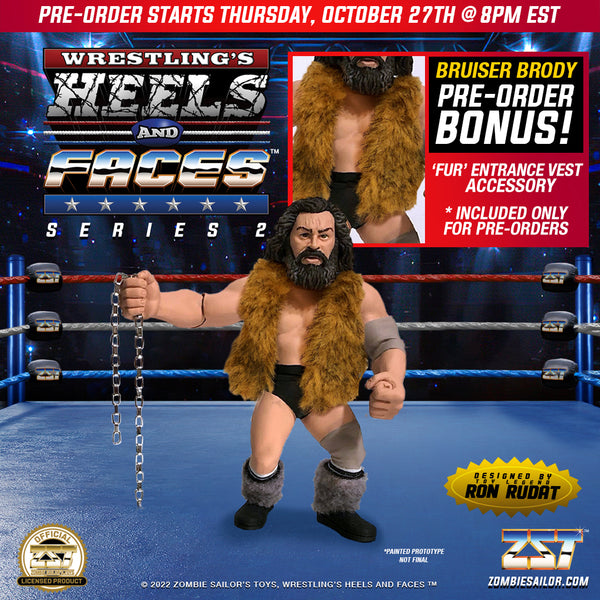 Bruiser Brody (with Bonus 'Fur' Vest)
This product listing is for a pre-order item. All sales are final.

Recreate key in-ring moments and memorable main-event matches from the past and present with Wrestling's Heels and Faces® vintage-style action figures! These officially licensed, premium-quality, 4.5-inch-scale figures come in a stylized form factor signature to early 1990s wrestling action figures, positioned in a dynamic pose. Each uniquely sculpted, highly-detailed, fully-posable figure features realistic character likeness, authentic ring attire, and nostalgic blister-card packaging. Fans and collectors can add their favorite wrestlers from yesterday and today to their collection. Additional products each sold separately, subject to availability. Colors and decorations may vary. For ages 18 and up.

The chain-swinging madman Bruiser Brody receives his first-ever, vintage-style, 4.5-inch-scale action figure! Brody's entwined hair, forehead scars, and fur boots are captured like they never have been before!
Individually-sculpted forehead scars
Real-metal chain accessory
Faux-fur boots
Positioned in "Clothesline" pose
6 points of articulation
Prototype images shown. Final product may vary.
The Frank Goodish Estate directly receives a percentage of each and every sale.

Orders placed within the pre-order window (Thursday, October 27, 2022 at 8:00 p.m. ET–Monday, November 21, 2022 at 3:00 a.m. ET; Monday, February 20, 2023 at 12:00 p.m. ET–Thursday, February 23, 2023 at 3:00 a.m. ET) will receive a bonus, faux-fur, entrance vest accessory!

Items are packaged and shipped with the utmost care.
All international customers are responsible for any duties, fees, and taxes applicable to their region.

Direction and Development: Zombie Sailor
Blueprint Design: Ron Rudat
Sculpt: Alex Heinke
Fabrication: Alex Heinke and Jennifer Johnson
Prototypes: True Cast Studios
Paint and Tailoring: Jennifer Johnson
Packaging: John Lucas Reyes
Photograph: George Napalitano
Portrait Illustration: Rich Davies
SKU#: 70426